Food Services
Good nutrition and academic success go hand in hand!
Our Food Services Department consists of 12 food and nutrition professionals who are dedicated to our students' health, well-being, and ability to learn. We support academic success by providing healthy meal choices—over 125,000 lunches and 33,000 breakfasts every school year—while promoting lifelong nutrition and fitness practices.
For additional questions, please contact your school's office or contact the Food Services office at (307) 332-4711.
Our Mission
Nutritional Services' mission is to provide meals within the USDA requirements to our consumers by working together in a respectful and safe environment.
Meal Prices
Important School Meal Updates
Since the pandemic, we have been operating off a federal waiver that allowed Fremont County School District #1 Child Nutrition Department to feed every child for free through the end of this school year. Unfortunately, this waiver was not extended to the 2022–2023 school year.
What this means:
School lunch and breakfast will go back to normal with free, reduced, and paid categories.
Starting August 2022, no meals or snacks will be free unless you qualify for free and reduced-price school meals.
We strongly encourage you to fill out free and reduced meal applications for the 2022–2023 school year. Applications will be available online through the parent portal or in hard copy. Hard copies can be found at your school's front office, Fremont # 1's administration building, or online at the far left of this page. Please make sure to pay attention to the applications' applicable dates. Currently, all we have available is the 2021–2022 application.
| Current Prices (2021–2022) | Student Price | Adult Price |
| --- | --- | --- |
| Elementary – Breakfast | $1.50 | $2.75 |
| Elementary – Lunch | $2.50 | $4.00 |
| LMS / LVHS – Breakfast | $1.50 | $2.75 |
| LMS / PHS / LVHS – Lunch | $2.75 | $4.00 |
| Milk | $0.50 | $0.50 |
| Reduced Meal Prices (2021–2022) | Student Price |
| --- | --- |
| Breakfast | $0.30 |
| Lunch | $0.40 |
A la carte items will be offered at the high school level, but students have to have a positive balance before the purchase is allowed. Milk is provided with a complete meal at no additional charge. Extra milk or milk purchased separately will be charged to the students account.
* Meal prices for the 2022–2033 school year will be established after the next school board meeting on May 17.
Fresh Fruit and Vegetable Program
For the 2021–2022 school year, Gannett Peak Elementary and Baldwin Creek Elementary have been awarded the USDA Fresh Fruit and Vegetable Program (FFVP) grant. The FFVP provides all enrolled k–5 students with a variety of free fresh fruit and vegetables throughout the school day.
The goal of the FFVP is to:
Create healthier school environments by providing healthier food choices.
Expand the variety of fruits and vegetables children experience.
Increase children's fruit and vegetable consumption.
Make a difference in children's diets to impact their present and future health.
Food Services Staff
Non-Discrimination Statement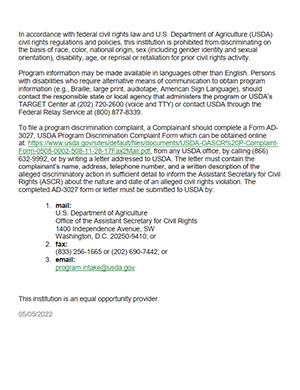 In accordance with federal civil rights law and United States Department of Agriculture (USDA) civil rights regulations and policies, this institution is prohibited from discriminating on the basis of race, color, national origin, sex (including gender identity and sexual orientation), disability, age, or reprisal or retaliation for prior civil rights activity. Program information may be made available in languages other than English.
Persons with disabilities who require alternative means of communication for program information (e.g., Braille, large print, audiotape, American Sign Language, etc.) should contact the responsible agency or USDA's TARGET Center at (202) 720-2600 (voice and TTY) or contact USDA through the Federal Relay Service at (800) 877-8339.
To file a program discrimination complaint, complete the USDA Program Discrimination Complaint Form, AD-3027, found online at how to file a program discrimination complaint and at any USDA office.To request a copy of the complaint form, call (866) 632-9992, or write a letter addressed to USDA. The letter must contain the complainant's name, address, telephone number, and a written description of the alleged discriminatory action in sufficient detail to inform the assistant secretary for civil rights (ASCR) about the nature and date of an alleged civil rights violation. The completed AD-3027 form or letter must be submitted to USDA by:
Mail: U.S. Department of Agriculture, Office of the Assistant Secretary for Civil Rights, 1400 Independence Avenue, SW, Washington, D.C. 20250-9410
Fax: (202) 690-7442
Email: program.intake@usda.gov
This institution is an equal opportunity provider.